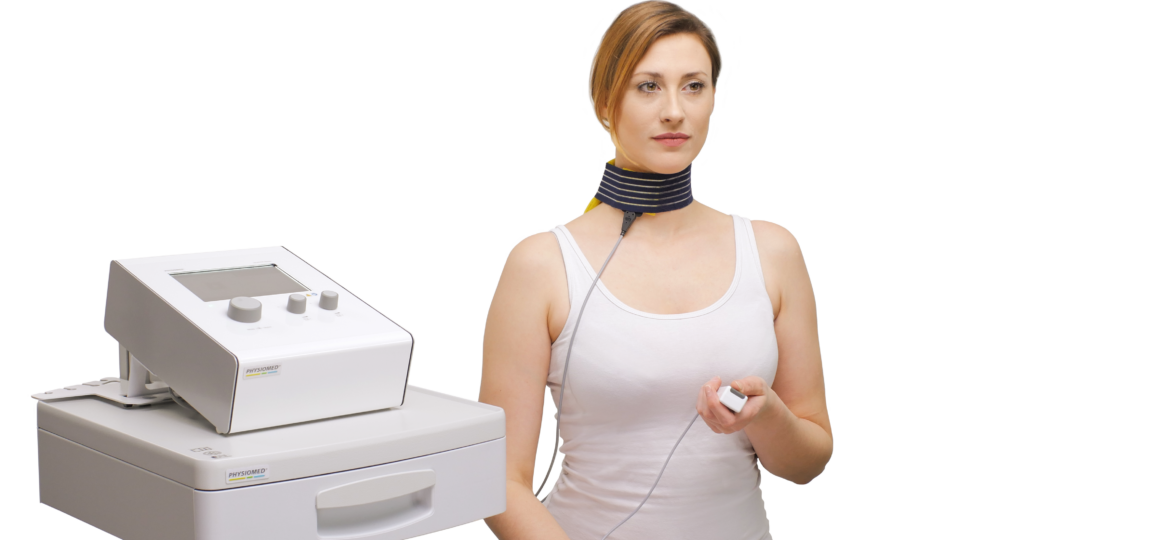 The time to wait has come to an end! Finally there is a new version of our worldwide popular vocaSTIM® therapy..
vocaSTIM® therapy supports the muscles responsible for swallowing and voice development with electrical impulses that are modelled on natural stimulus patterns. The patient or the therapist triggers these impulses with a hand switch exactly when the patient needs this support in swallowing.
Since the last version, several improvements have been made that make therapy with the vocaSTIM®-Master even more efficient and pleasant.
The colour touch display improves the user guidance, allowing you to quickly find your desired functions.
Thanks to the innovative dual-channel technology, it is possible to respond even more specifically to indications where there are two affected sides. The impulses are emitted synchronously and can be set with different intensities for both affected sides in order to respond to the different, individual stimulus levels. This is very important, for example, in bilateral superior laryngeal paresis therapy.
New currents provide functional and natural swallowing movements. With the two-channel dysphagia current, the floor of the mouth is stimulated first (channel 1) and then the laryngeal siphon (channel 2).
In the newly structured menu guidance, you can choose in the indication menu whether you want to carry out the therapy with or without pre-treatments. This way, electrotherapy is better integrated into the overall workflow.
After selecting an indication, you will see indication images in 3 perspectives that show you how the electrodes should be applied for the respective indication.
Thanks to the sound and speech exercises adapted to the clinical picture, the patient can perform the electrostimulation independently after instruction by the doctor or therapist. Adjustments to the intensity of the exercises, the tempo and the current degree of damage increase the success of regeneration in the case of disorders.
You can determine the degree of damage with the help of a diagnostic programme. A foot switch helps to operate the device even if both hands are needed for the laryngoscopy. If the laryngoscopy is not possible for reasons of time, the classification of the degree of damage can be carried out by experienced doctors themselves.
The tested value is automatically transferred to the indication menu, which outputs the corresponding therapy settings, electrode placement and exercises.
Workflows have been improved by automating the diagnostic menu.
Approach each patient individually by accessing the personalised history of your patients.
The device will be available for delivery from December 2021. Order now and secure one of the first devices.
For more information about the device, please visit the product page.
Click here to access our contact form